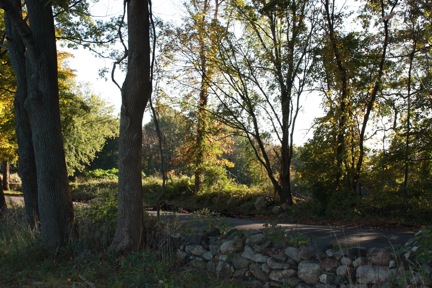 Q & A
Background
The New Canaan Elder Care Council, in conjunction with The Waveny Care Network (which owns and operates the Waveny Care Center and the New Canaan Inn), has identified the need for a not-for-profit Continuing Care Retirement Community (CCRC) in New Canaan. WCN has also decided that the "best and only" site for its CCRC (with up to 250 units) is a 15-18 acre area within Waveny Park, west of Lapham Road, The site they covet includes the mulching area, as well as the woods and wetlands across from the Waveny House driveway, and is within view from Waveny House itself.
Q: Does the Waveny Park deed allow this?
We don't think so! On July 22, 1967 Ruth Lapham Lloyd sold and deeded her Waveny property to the Town of New Canaan. Explaining why she made this generous gift to the town, Mrs. Lloyd told the New York Times, "I just couldn't see small houses being stuck around the place." The property consisted of five parcels, totaling about 295 acres. Parcels A, B and C were conveyed to the Town as a gift. Parcels D and E were sold to the Town for $1.5 million. Aside from Parcel A, all of the parcels – including Parcel E - have very specific deed restrictions.
Restriction: "The premises shall be held and used for the purposes of recreation, health, horticulture, public park and gardens, including by way of illustration, but not of limitation, the preservation and conservation of open spaces, bird sanctuaries, arboretums, and nature and equitation trails."
But only the deed for Parcel C specifically includes the additional use for higher education, and contains provision for the establishment of a committee "to explore and develop uses to be made for Parcel C" and states that Parcel C could be used for "a site for an institution of higher learning," and "as a site for public health, medical research or hospital facilities which shall be in conformance with paragraph 2 above. This special deed provision, for Parcel C only, is why the 50-acre Parcel C now contains both New Canaan High School and Waveny Care Center.
But unlike Parcel C, where health facilities were specified, Parcel D has no such language.
Furthermore, the examples given in the deed show clearly that construction of limited access residential developments for only those who can afford to buy in was not in any way contemplated or desired for Waveny Park.
Q: Didn't the use of Parcel E for assisted living come before New Canaan in the past?
A: Yes, twenty years ago, Lifespan Systems, Inc., proposed a similar residential development. But in a letter dated November 27, 1989, then Town Attorney Edward S. Rimer, Jr., opined, "The proposed use is a hybrid, neither strictly speaking 'housing' in the normal sense of the word nor strictly 'acute care' or health care as in the case of a hospital or facility like Waveny Care Center. In cases involving a hybrid use and a necessity to classify or characterize, the IRS and the Supreme Court of Connecticut have relied on a 'primary purpose' or 'main purpose' test. See Stop'n Save v. Department of Revenue Services, 212 Conn. 454 (1989). Here, the health aspects of the proposal are incidental to the housing characteristics and, as a consequence, the Lifespan proposal cannot be classified as a health use." This is an essential fact, yet the CCRC proponents have somehow neglected to mention it in any of their efforts to "educate" the town.
Q: Would a CCRC in Waveny Park serve the general public?
A: No. There's a very high admissions hurdle to get in. The price for the units would be in present dollar range of $550,000 to $1,250,000 and would require ongoing annual fees from $50,000 to $75,000, depending on services desired. Thus, the CCRC would provide private accommodations for only a very limited portion of New Canaan's population and current non-residents, which is clearly not consistent with the Town's agreement with Mrs. Lloyd, nor with the very concept of a public park.
Q: Isn't this a land grab of over 15 Acres of New Canaan's "Crown Jewel," Waveny Park?
A: Some say if the Town permanently leased out 15-18 acres of Waveny Park it would constitute a precedent-setting subsidy to an outside group for obtaining land that should by all rights remain public. New Canaan recently purchased 36-acre Irwin Park for $20 million. Why would New Canaan place such a premium on parkland yet be willing to sacrifice up to 18 highly visible acres of Waveny Park? Others question the soundness of the proposed CCRC business plan, noting that "It's a huge, $150-$175 million dollar construction project, yet they still demand a handout of what their presentation calls 'no asking price' land?"
Q: But don't New Canaan citizens use the Leaf Mulch Pile?
A: Yes! In fact, the leaf mulching operation is New Canaan's most tangible "green" initiative. It's where the Town "leaf-sucker" trucks take the leaves piled each fall along the roads in front of homes zoned for one acre or less. All New Canaanites can make use of the conveniently located free mulch all spring and summer, and some mulch is even sold by the town to landscapers. If the leaf mulch operation is closed, where will the leaves go? Either they'll remain beside the road, clogging town drains and sewers, or the cost of bagging them and hauling them away will become prohibitive.
Q: Would there be environmental or wetland issues if a CCRC were to be built on the west side of Waveny Park?
A: No doubt about it, even beyond the environmentally backward step of turning parkland into a large-scale residential development. Heavy run-off from proposed buildings and parking lots can cause problems and unintended consequences, from exacerbated drainage issues and flooding problems on Route 106, Jelliff Mill, and Weed Street, going all the way down to Darien. Anytime you increase the impermeable surfaces, it worsens and accelerates the run-off. And even a LEED certified building complex is worse for the environment than no buildings at all!
Q: How do most New Canaan residents feel about parkland?
A: If you read the CCRC "education" efforts, apparently no one in town cares much about parks or open space. That's where they're wrong. In fact, we New Canaanites do value our parks and we recognize that open space is increasingly important; both of those values come together in the fields and woods of Waveny Park.
In 2001, the New Canaan League of Women Voters ran a 22-question survey on the town's attitudes toward the preservation and acquisition of open space. The survey found that a large majority of New Canaanites ranked open space as highly as they ranked town schools in importance. 66% said they were concerned about open space, and 66% did not think there was enough. 74% and 67% of respondents respectively felt it was "important or very important" for additional open space to be preserved "as is," or improved for passive recreation only.
And, remember, in the case of the currently proposed CCRC, we're not talking about "open space" in abstract – we're talking about the incredible and unique place that is Waveny Park.
While there are many possible locations for an appropriately scaled CCRC, there is only one Waveny Park.
Q: What needs to be protected in Waveny Park?
A: Ask yourself, is Waveny merely "free land" for office buildings, bus parking, and large-scale residential development – all things that have been proposed? Or is it something far more profound? We owe it to each other and to the future to protect especially the open, natural, untouched, and unused portions of Waveny Park for walkers, runners, hikers, to say nothing of the flora and fauna that already live there. In this context, Waveny Park isn't "free land" at all – it's priceless.
Q: Should I wait until the full CCRC proposal is ready, sometime in 2010?
A: few Town officials still say they need "more details" before deciding whether they are for or against allowing a 250-unit CCRC to be built Waveny Park.
And Waveny Care Network's chairman doesn't want anyone to question this proposal until next spring.
Our opinion is that even if they provide details right down to the doorknobs, it won't change the essential fact: everyone's public Waveny Park is no place for an expensive, limited access residential enclave.